About The Museum
The Sharjah Calligraphy Museum first opened its doors on June 12, 2002.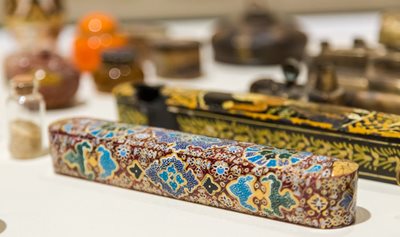 Why you should visit Sharjah Calligraphy Museum
Here, in the house of Hamad Al Midfaa in the Sharjah Heritage Area (Heart of Sharjah), you can embark on a fascinating discovery journey into the world of creativity and splendor to learn about the evolution of Arabic calligraphy over the years, through beautiful portraits depicting stunning calligraphic texts, letters and shapes.
Admire the beauty of Arabic Calligraphy
This museum showcases fascinating masterpieces and creative paintings by local and international artists and calligraphers. It also hosts exhibitions on a regular basis, aiming to instill the love of Arabic calligraphy in every visitor, to preserve the cultural heritage, to introduce the visitors to the Arab artists' marvelous artworks and to set new standards both locally and internationally.
The artworks displayed highlight the masterly talents of local and international artists and calligraphers; their paintings, meticulously created, carry a deep meaning and a valuable historical background. This museum, with all its spectacular calligraphic artworks, gives you a boost of positive energy that will brighten up your day.
Highlights from the collection
Three historic paintings in Kufic font by calligraphers from Al Kufa; these artworks depict the three stages of the emergence of calligraphy, specifically, the Kufic script:

In the third century AH, the Kufic was known as "Kufic AL Yabis (stiff)" as it was written without any dots or nutation. Abu al-Aswad Al-Du'ali is credited with inventing a system of placing large colored dots above certain letters of Quran verses to distinguish between different consonants. He also replaced nunation with "red dots"
The difficulty of distinguishing between similar letters such as ( " بB", " تT ", ث "Th ") made Nasr bin Asim and Yahya bin Ya'amr invent the so-called "Ala'ajam" in the fifth century AH (which means adding dots to letters in order to differentiate between them).
Khalil ibn Aḥmad Al-Farahidi is credited with the current standard for Arabic diacritics; he replaced the red nunation, used by Abu al-Aswad Al-Du'ali, with the Arabic diacritics (short vowel marks) we use today, namely Fathah, Dammah, Maddah, Kasrah, Sukun and Tanwin.

The Al-Hulia Al-sharifa: the Al-Hulia of the Iraqi calligrapher Ziad Al Muhandis is considered the largest in the Islamic world until today(280*300 cm) . A description of the Messenger of Allah prophet Muhammad (Peace be Upon him) in Thuluth Arabic font in 1420 AH.
Katateeb Boards (Katateeb it's a place where students used to learn about Quran, Islam, how to read and write, etc...): it consists of 16 Katateeb boards on which students wrote verses from the holly Quran. Two of those boards show a drawing of "Mosque", indicating that the two students who drew them have read the Quran, either partly or wholly. The Katateeb boards were gifted to the museum by Sudan at the opening of Sharjah calligraphy Biennial in 2006.
Opening Hours
Saturday to Thursday: 8:00 am - 8:00 pm Friday: 4:00 pm - 8:00 pm Timings are subject to change during public holidays and Ramadan. For more information call the museum.
Website:
wwww.sharjahmuseums.ae