About The Museum
Sharjah Classic Cars Museum first opened its doors in 2008. It underwent remarkable renovations and was re-inaugurated in 2013.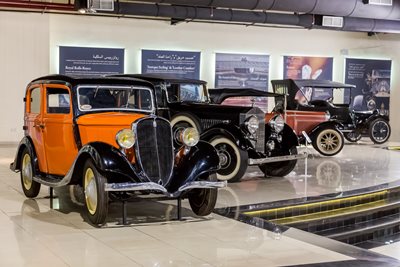 Why you should visit Sharjah Classic Cars Museum
This museum is an ideal destination for classic cars lovers. It draws tourists and visitors from all around the world. It is a one of a kind museum in the region, as it displays more than 100 classic cars manufactured in the early 20th century.
Learn about the automotive industry history through a wide range of classic cars collection showcased under one roof.
Admire the magnificence of the largest classic cars collection displayed under one roof
Sharjah Classic Cars Museum displays vintage classic cars of different brands dating back to the 20th century, in addition to classic motorcycles and bicycles. The oldest car showcased in the museum dates back to 1917.
The museum is divided into five sections; each represents a historical stage of development in the automotive industry. It also offers visitors the opportunity to learn about the different types of car engines and how they function. In addition, the museum organizes interactive activities and experiments suitable for all ages.
Here, visitors will be able to get an up close look at classic car models and their specifications including Rolls Royce, Ford, Mercedes, Chevrolet, Bentley and many others. They can also read about the brilliant innovators who were behind the manufacturing of those glamorous cars, and admire the great efforts they exerted to offer humanity the greatest innovations that have contributed to the evolution of human civilization, as it provided mankind with the best means of transportation and travel.
Highlights from the collection
1915 Dodge model, the oldest car in Sharjah Classic Cars Museum. When the new Dodge was launched, there was no doubt that it's going to be one of the best cars in the market; it's certainly worth buying.
1969 Mercedes-Benz 600 Pullman:: A total of 2,677 vehicles only were manufactured. This car belongs to His Highness Dr. Shaikh Sultan Bin Mohammad Al Qasimi, Ruler of Sharjah. The first car was launched in 1963. This car witnessed a sharp production decrease during the oil crisis that occurred in the seventies, and since then, "Mercedes 600" was only made upon request, which means 25 cars only were produced yearly; the last car was manufactured in 1981. The "Mercedes 600 Pullman" features unique specifications, including hydraulic seats adjustment, as well as windows and doors control. It's worth mentioning that the car displayed in the museum is bulletproof.
1957 Bedford Model, which was used in the UAE for military purposes. Bedford RL truck rolled off the production line in 1969. This British-made truck consists of 6-cylinders, and a maximum speed of 70 miles per hour. Bedford company was established in 1931, and it manufactured a series of heavy vehicles including trucks, buses, fire trucks, military vehicles and light trucks. The last Bedford car was manufactured in 1985.
Opening Hours
Saturday to Thursday: 8:00 am - 8:00 pm Friday: 4:00 pm - 8:00 pm Timings are subject to change during public holidays and Ramadan. For more information call the museum.
Website:
wwww.sharjahmuseums.ae